The Chef's Choice M840 is a bit different then the other models we have reviewed and the difference is pretty obvious. With this waffle maker you can make 5 heart shaped waffles in only 90 seconds! The Chef's Choice M840 is available at Amazon for $69.95 while it retails for $95. That's right you would save 26% or $25.05 if you purchase it from Amazon as opposed to your local retailer.
This particular waffle maker does not flip like the other waffle makers but it does have a floating top plate that settles evenly to give you uniform thickness between each heart. We had a little difficulty finding the perfect amount of batter to use but after a few tries we had a good system. Which leads to another difficulty with the M840, cleaning. The Chef's Choice M840 might be the toughest waffle maker to clean thus far. On the other hand, it does make adorable heart shaped waffles! One nice feature is the 4 adjustable cooking settings from fast bake to deep bake.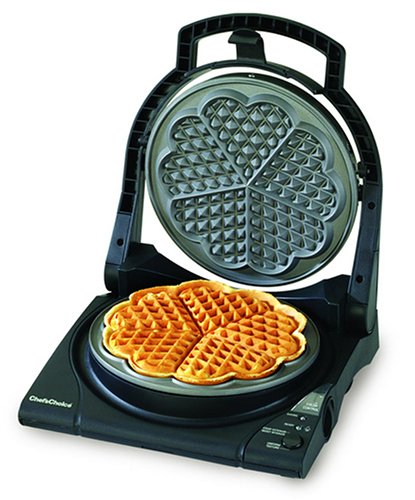 Personally the fast bake wasn't cooked enough for my liking as the insides were a bit too gooey, but I do like my waffles on the crispier side and deep bake delivered for me.
Chef's Choice M840 Features
Non-stick grilling surface
Quad Baking system allows from fast bake to deep bake
Unique top floating plate for uniform thickness of waffles
Makes 5 heart shapes waffles!
Recipes included with waffle maker
Stores in upright position to save space
Pros
If you are looking to add a little style to your breakfast, the M840 is the way to go. This waffle maker is ideal for larger families that have more mouths to feed. The adjustable bake settings are nice if you have picky eaters as well.
Cons
The quality overall is a little lacking in this particular waffle maker. We found it to a pain to clean and trying to get the right amount of batter in the waffle maker without too much over-spill was difficult as well.

Final Thoughts
The Chef's Choice M840 gets big style points due to its unique heart shaped waffles. If you can look past the extra work required to clean this waffle maker and figure out how much batter to use each time, then the M840 is indeed an ultimate waffle maker. The different baking settings are great if you have picky eaters like my family and cooking 5 waffles at once is excellent for larger families. Click the Amazon link below if this sounds like the right waffle maker for you and get one today!