Before the electronic waffle makers became available to the general public, they were clumsy and difficult to clean. Today's waffle makers, however, are quite easy to clean and maintain. Still I can share some tips on how to use a waffle maker. Now, piping hot fresh homemade waffles are simple to make and by making them at home, they can be customized to suit every preference in your household. In no time at all, I can make a plate heaping with crispy waffles waiting for my husband and sons to add their favorite toppings.
The real fun is that I can now make waffles for more than just breakfast. We now dine on waffle sandwiches for lunch or dinner or simply top them with tuna, chicken or shrimp salad. I have even created some fantastic waffle desserts using chocolate, caramel, strawberry or butterscotch syrup, ice cream, and an assortment of dessert toppings.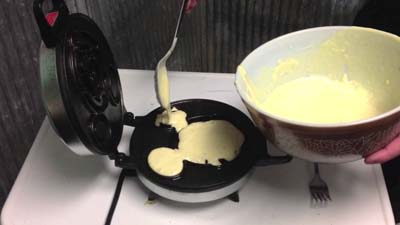 The magic of the waffle maker is that it turns simple batter into a crispy and puffy treat perfect for every taste. Waffle irons come in different sizes and shapes but whatever model you choose for your family, they all basically work the same way. No doubt, your family and friends complement your creation with their favorite toppings the same way mine has.
Using a waffle iron is a snap. Following are a few helpful tips I discovered to help me make perfect waffles and clean up afterward with no effort at all: Even if your waffle iron comes with a non-stick surface, lightly coat the grid plate with nonstick cooking spray or use a paper towel to wipe it down with a thin coat of oil. Be careful not to use too much oil because it will affect the taste of your waffles.
Add the batter only when the waffle maker indicator signals that it's hot enough. Make sure you carefully follow the instructions that come with your waffle maker and add only the recommended amount of batter because it will need room to expand. Too much batter will cause and overflow and a big mess for your to clean up.
Waffle makers now come with mechanisms that will let you know when your waffle is done. However, a good rule of thumb to know when your waffle is ready is that the steam that escapes during the baking process will stop.Save your leftover waffles for later. Let them cool completely, then seal them in plastic and stash them in the freezer. When you're ready to serve them, simply pop the frozen waffles into the toaster.
Finally, be sure that you thoroughly clean your waffle maker before putting it away. Cleanup is quick and easy. Simply unplug it while it is still warm. Slightly dampen a dish cloth or several paper towels, place them on the grill plate, and close the waffle iron. Once the steam stops, open it up and remove the dish cloth or paper towels. Your waffle iron is sparkling clean in just seconds and ready for the next use.
Hope these will help you use your waffle maker to the fullest and I wish you many tasty moments with it 🙂