The single most notable feature about the Presto 03510 is the flip design. Obviously you can tell just by looking at it. While this particular model is not an actual professional waffle maker, it does mimic one very well… except for the price tag. The Presto 03510 is available at Amazon for only $42.89 while it retails for $49.99. You save $7.10 or 14% by going through Amazon! Our experience of using the Presto 03510 was a pleasant one.
The waffles the Presto made were perfect in consistency, depth and deliciousness! Tough job I know, but someone has to be the taste tester! When we got our 03510 we noticed the left cooking grid wasn't quite as sealed tight.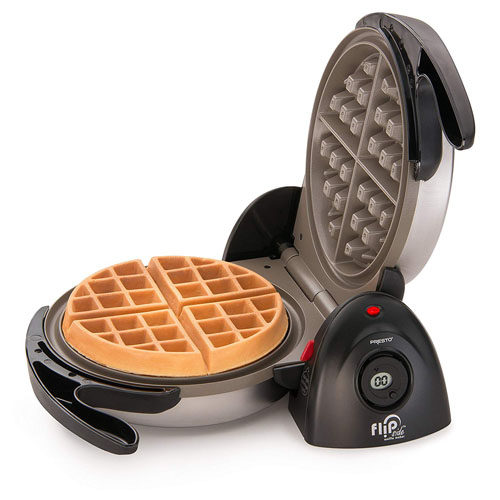 This might be due to manufacturer variances but regardless, the right side was tight so we would fill on the left side then flip it over to the right side for cooking. This model has particularly deep pockets so your waffles will be very thick. Also keep in mind the Presto 03510 cooks at 1350W while other models cook at 1200W.
This is nice as there is no "browning" time to give that wonderful waffle look but the higher temperature browns it just right. The countdown timer is nice and the timer beep noise is essential when multitasking in the kitchen… ie cooking eggs and bacon to go with your delicious waffles. The Presto 03510 also locks vertically which is perfect for storage.
Presto 03510 Waffle Maker Features
Non-stick grilling surface
Countdown LCD timer with audio alarm
Vertical storage setting 1350W of power
Flips 180 degrees to evenly spread batter for cooking
Extra thick grid in 7″ diameter sectioned into 4 quadrants
Pros
The 180 degree flip is absolutely wonderful. You get professional style waffles without the professional style price of a Waring Pro. Cooks waffles in only about 3 minutes to a perfect brown that are crispy on the outside and tender on the inside.
Cons
No drip tray and ultimately you get what you pay for when comes to quality. Some users have complained about quality but not in a large amount.

Final Thoughts
For the price this is an absolutely wonderful waffle maker. I personally own one and could not be happier with it. It stores easy, makes great waffles and let's me know when it's done. I could not be happier with mine and definitely recommend to all my friends if they are not looking to spend too much on a waffle maker.
That does not mean there is better out there though, but for the price you get great thick delicious waffles. If this sounds like the right waffle maker for you then click the link below and order yours through Amazon!