Butter, syrup and hot waffles make any breakfast feel like a lazy weekend morning. Cooking four square waffles can be much faster and easier than you think if you use the Oster CKSWF 40 Waffle Maker. In just minutes you can have waffles with batter made from scratch or from your favorite boxed mix. With non-stick plates, the unit is easy to clean, too.
Why the Oster CKSTWF40 4-Slice Waffle Maker?
This waffle maker has a small footprint, so it can stay out on a counter or hide neatly in a cabinet without taking up too much room. At only fourteen by eleven and a half inches and just over five inches thick and it weighs only about four pounds; it can even be portable. The waffle maker boasts a locking handle and an automatic shut off, as well.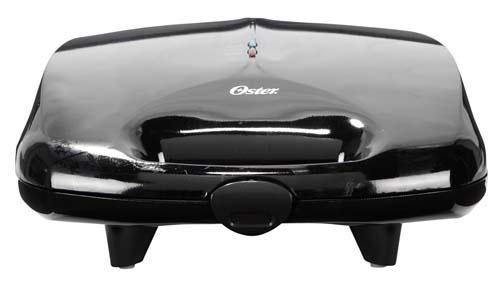 Some waffle makers are hot to the touch and hard to handle. Cooking waffles with children can be fun to do, but if the waffle maker is too hot, then it is not safe for them to help all that much. With the Oster CKSTWF40 4 slice Waffle Maker, it will not be a problem because this one stays cool to the touch.This waffle maker has deep pockets to make thick, Belgian style waffles that usually take a longer time to cook thoroughly. Being able to make four of these waffles that can accommodate fruit in the batter can make a breakfast or brunch preparation much faster.
With a cooking time of four to six minutes per waffle (set of 4) you can feed a group in no time.
What are the customers saying about the Oster CKSTWF40 4-Slice Waffle Maker?
Finding a small waffle maker that is easy to clean and to store can be a challenge. Having a Waffle Maker that cooks four waffles at a time makes it a better bet for hungry families or for people who want to make them early and then pop them into the freezer.
Oster CKSTWF40 Pros
Small footprint only 14.3X11.5X5.2 inches
Lightweight: four pounds
Cool touch handle that locks
Non-stick cooking plates
Reasonably priced
Oster CKSTWF40 Cons
Top of waffles don't always get as crispy as the bottom
Doesn't always get hot enough to cook waffles thoroughly
Waffles are not cooked after the 4-6 minutes cited in instructions
Customers who have purchased the Oster CKSTWF40 4-Slice Waffle Maker seem to be polarized with their impressions of the product. Some really love the unit and have purchased more as gifts and others have had poor experiences and would not recommend it at all. It appears that those who are not satisfied with it have had difficulty with the waffle maker heating up properly.

These comments illustrate the opinions of customers that have purchased the Oster CKSTWF40 4 Slice Waffle Maker.
"This is an excellent waffle maker, it just works every time." – By Di
"Our waffles are light, not crispy and not cooked. They won't release from the grids because it's still batter." – Kimberly
While the bulk of the customer opinions seem to be favorable and unfavorable, there are some customers that have found the unit to perform in an average or acceptable manner for them. They may be helpful to those who are considering the purchase. For example, these customers had this to say about the waffle maker:
"I have only used this waffle maker twice so far. Except for the very first waffle that I cooked, the waffles have been coming out a nice, fairly even golden color." – customer from the San Francisco area
"Another thing we noticed is that steam formed inside the indicator light, but we've seen this on other waffle makers with no ill effects. Otherwise it worked acceptably for the first time, making 4 edible waffles at a time without sticking." – customer from Colorado
This unit is made for home usage and is portable. The mixed reviews make it difficult to heartily recommend it, but the units that do work seem to do so exactly as they are designed.
Highlights of the Oster CKSTWF40 4 Slice Waffle Maker
This lightweight waffle maker yields four Belgian waffles in four to six minutes. It has a non-stick surface that allows for easy clean up. The cool to the touch handle also locks in place.
Click HERE To Get This Model At Discounted Price With FREE Shipping!
The flat edge means that it can be stored standing up to save space. It can be recommended for home usage and with some patience, this Oster CKSTWF40 waffle maker can make your breakfast of brunch yummy.day.