When I first saw the new Uno Belgian Waffle Iron line from VillaWare, I immediately thought that it was an impressive small appliance in terms of its looks and cooking ability. It has a polished, retro design complete with clam-shaped top and a deeply-set baking surface for making one round, 7 ½ inch Belgian waffle with large deep craters. It's made of die-cast aluminum and has a nonstick interior and a control for light to dark browning.
I liked this waffle maker so much, I bought one to give as a Christmas gift for my daughter, her husband and my young grandson. They used it to make a waffle breakfast the very next morning. My daughter called me to rave not only about the quality of the waffles but she also sang the praises of the product, saying that was a joy to use as well as an ease when it came to cleaning up.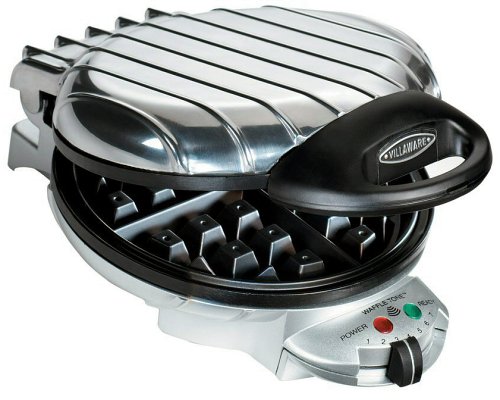 Before making the purchase, I had researched several waffle makers. I found that the Uno Round Belgian Waffle Iron from VillaWare is an excellent choice for my daughter and her family and that was very reasonably priced. I truly believe that it's quite possibly the best waffle iron for the money. My daughter has told me that she can keep her waffles in a little longer than called for in order to get them crispy on the outside, yet still remain light and fluffy on the inside.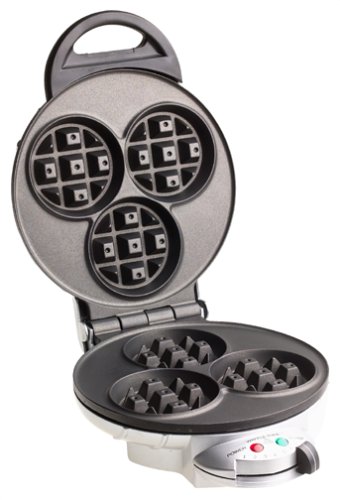 I was so impressed with my daughter's rave reviews about this VillaWare waffle maker that I decided to return to the store and purchase one for myself. It works great. My husband and I now have waffles whenever we want. We don't just wait to enjoy waffles for breakfast anymore either. At lunch time, we feast upon waffles topped with shrimp salad or chicken salad. But, one of our favorite indulgences are dessert waffles piled high with fresh fruit, ice cream or whipped cream, and topped with chocolate syrup.

We like this waffle iron so much we will never again be without one. If for some reason I should accidentally break my Uno Round Belgian Waffle Iron from VillaWare, I'll dash out and buy another one right away.