You really need a specially designed waffle maker if you want a true Belgian waffle that's fluffy and thick all over. The nonstick Professional Belgian Waffle Maker by Waring was made to professional standards. It rests in a cradle-like stand and comes with a handle that you turn as your waffle bakes. As you rotate the iron, the waffle drops from side to side allowing it to puff up evenly on both sides as it browns all over.
The Waring Professional Belgian Waffle Iron has a basic on/off switch, a knob to adjust the browning and LED lights that tell you when the power is on and when your waffle is ready. A beep tone lets you know when the waffle maker is ready for you to add batter and when your waffle is finished baking.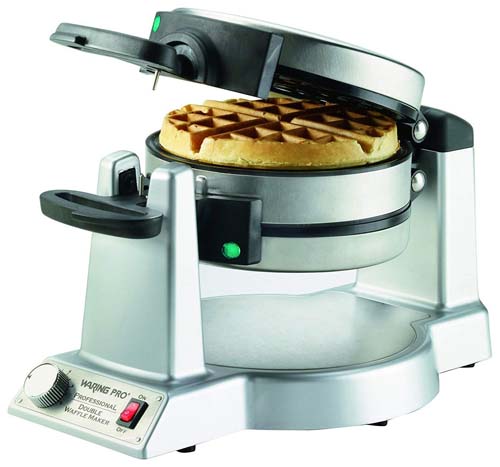 You can make up to twenty-five Belgian waffles that are 1 ¼ inch thick in an hour! The Waring Professional Belgian Waffle maker has a brushed stainless steel housing and a brushed, die-cast base that makes it an attractive addition to any kitchen counter. It has a removable stainless catch tray that is dishwasher-safe for easy clean up.
My husband bought me this Waring waffle maker because we all fell in love with the one at the hotel where we vacationed last summer. At first, I got upset because of the price and I wasn't at all pleased with its large footprint, but I soon changed my opinion when I realized how great the waffles were; and that it is really much lighter than it appeared, making it very easy to move in and out the cupboard. We absolutely love it!

This product makes perfect waffles every time. The kids love making their own waffles on it. In addition, cleaning up afterward is very easy. It makes excellent waffles and the tray always catches the drips, making it just right for all of us.
My only warning is that anyone who buys the Waring Professional Belgian Waffle Iron read and follow the start up instructions carefully. Doing so will will get your waffle baking off to a great start. Cooks great, perfect waffles professionally as they say…..just like a top of the line breakfast buffet. Would recommend this Waring waffle maker to anyone !!