The West Bend 6201 Rotary Waffle Maker makes thick, 7" round Belgian waffles that have 4 easy to cut sections. The waffle maker has an adjustable browning control knob that lets you decide how crispy you want your waffles to be. Many customers stated that the medium setting produced great waffles that were golden brown but still very moist and soft on the inside. If you prefer crispier waffles that are more well-done in the inside, you will want to choose a higher setting.
Like many waffle makers, the actual waffle plates are not removable which can make it a little trickier to clean, but because of the non-stick coating, a damp sponge or paper towel should take care of any messes. Although there is a drip tray to catch any batter that might overflow, many people stated that they did not have any problems with batter spilling out. But if you do overfill the waffle maker, the drip tray will protect your countertop from any mess!
There is an indicator light to let you know when the unit is heated to the correct temperature and you can pour the batter in and a ready to eat indicator light on both the top of the lid and the bottom so that when you rotate it, you can see when your waffle is ready to be removed. But because there is no audible sound when the waffles are done, you have to make sure to watch the indicator light so as to not burn your waffles.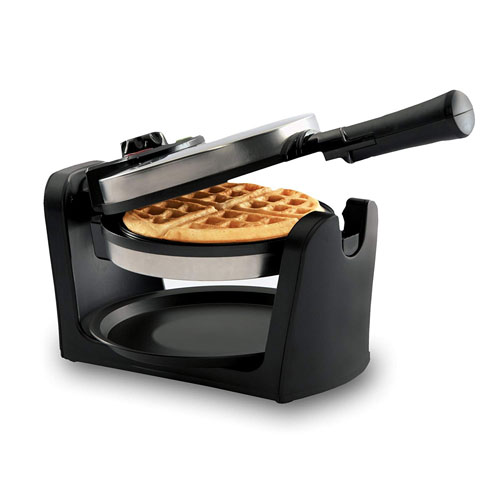 A couple people mentioned that when the lid is up, the West Bend 6201 Rotary Waffle Maker has a tendency to lean slightly to the side so be sure to pour the batter evenly across the grid to ensure even cooking.

For storage, the handle folds up making the waffle maker about half the size which is great for saving counter or cabinet space.
West Bend 6201 Rotary Waffle Maker Key Features
The West Bend 6201 Rotary waffle maker is a flip-style waffle maker
Makes thick, 7" round Belgian waffles
Non-stick coated plates
Drip tray helps catch batter spills
Power and ready to eat indicator lights
Adjustable browning controls
Brushed stainless steel design
Easy, fold away storage saves space
1-Year warranty
Currently the West Bend 6201 Rotary Waffle Maker has 204 customer reviews with a 4.5 star rating on Amazon.
About the Brand
In 1911, West Bend was founded in West Bend, Wisconsin. Since then, they have been a leader in developing electric kitchen appliances. They manufacture numerous home appliances including slow cookers, bread makers, coffeemakers, popcorn poppers, blenders, and waffle makers.
Overall Verdict of West Bend 6201 Rotary Waffle MakerWest Bend 6201 Rotary Waffle Maker
The West Bend 6201 Rotary Waffle Maker is quite similar to other flip-style waffle makers that we've reviewed. It has standard features including adjustable temperature controls, non-stick plates, and indicator lights.

Although rotary waffle makers tend to take up more space than a standard press-down waffle maker due to their design, the handle on this model folds up so it takes up less space. If you're not looking to spend a lot of money on a waffle maker then this is definitely one to consider.